Copenhagen Tourist Attractions
As the capital city of Denmark, it comes as no surprise that Copenhagen has a wide array of sites and fascinating activities for tourists. The great thing about Copenhagen is that despite it being the biggest city in Denmark, most of the interesting spots are within easy walking distance of each other.
Copenhagen tourist attractions include visits to one of the city's most famous landmarks. Most notable is the amazing old theme park Tivoli, the freedom-loving town of Christina and The Little Mermaid statue. With mild weather, smooth transport facilities and friendly locals, Copenhagen is a city that has a lot to offer.
Dating all the way back to 1043, Copenhagen has a fascinating history that is well worth exploring. The Amalienborg Palace is home to the Danish royal family, and you can enjoy a guided tour around the magnificent palace itself as well as the lovely grounds. It is a magnificent example of Rococo architecture, and watching the guards change outside the grounds is a real spectacle. The Little Mermaid statue that is situated by the harbor was given as a gift by Carl Jacobsen (founder of Carlsberg breweries) to the city of Copenhagen. Jacobsen became completely enchanted by the character after seeing a performance of the story at the Royal Theater. Today her head is safely intact, although troublemakers have beheaded her more than once since her creation in 1913.
With excellent facilities, Copenhagen has thrived to become a regional hub of business, finance and culture. As one of the most environmentally friendly cities in the world, you can even take a dip in the water at the harbour as it is so clean. Once you have lapped up the historical wonders of Copenhagen tourist attractions, you can take advantage of the thriving art and fashion culture. Christiania is the controversial area that's liberal views on drugs has made it a favourite with the aging hippies of the 70's. With eclectic architecture, a range of unique galleries and intriguing music venues, Christiania really is an original and inspiring area.
The main shopping area, Strøget is a 1.1-kilometer strip of shops ranging from all the high street names to the most exclusive designers in the world. With Prada, Chanel and Mulberry to name but a few, Copenhagen can compete with any major city in terms of style and fashion. As well as the wide range of shops, Strøget boasts even more Copenhagen tourist attractions including the beautiful Church of Our Lady where Prince Frederik and Princess Mary said their vows. You will also stumble upon Helligåndskirken that is unmissable due to the large book sale outside.
The Round Tower is another fascinating treat for tourists in Copenhagen as it is the largest observatory in Europe. Climb up the 209 meters of spiraling stairs to reach the top, and gaze at the magnificent view over the whole city. You will also be met with the stunning library hall that once held the books for the University. Now however it is a unique space for art exhibitions and functions.
When are feeling exhausted from the entire site seeing, you can relax at one of Copenhagen's many parks or beaches. Islands Brygge is particularly popular and has received critical acclaim for it's beautiful and original design. King's Garden that is situated in the lush estate of Rosenborg Castle attracts the most visitors, and is a delightful place to spend a summers' afternoon. Keep an eye out for the events at Faelledparken that is the largest park in Copenhagen. There are open-air operas and a number of different festivals throughout the year, so if you are lucky enough to be in Copenhagen then be sure to check what is going on.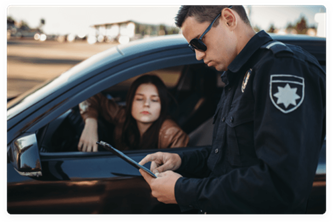 Get Your International Driver's Permit in 2 hours
An IDP is a requirement to drive or rent a car in many foreign countries. It is also a United Nations regulated travel document for your safety and ease of travel. Avoid additional stress whilst on your travels...
ORDER NOW
UNBEATABLE VALUE CAR RENTAL

FREE
Amendments,
FREE
Cancellations,
NO
card fees!

airport_shuttle Need Airport Transfers?
Useful Information about Copenhagen Airport